Corporate Event Venues in Singapore
Boasting an elegant decor and options for customisation, we ensure that your meeting agenda is enhanced.We offer spacious indoor halls ideal for intricately detailed conferences.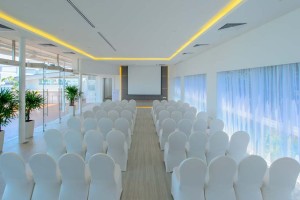 DINNER AND DANCE
Equipped with a mesmerizing rooftop al fresco garden area, Sky Garden is the apt place for the attendees to mingle and talk while enjoying the scenic view. This is the perfect getaway from the usual ballrooms or function space for your company's Dinner and Dance, and step into a space that encapsulates you in the island vibe.
Set amidst lush green foliage, where quality cuisine meets contemporary interior, this is certainly one unique venue to explore.
PRODUCT LAUNCHES

Located just moments from Harbourfront MRT station, Sky Garden is an impressive venue as it offers bothy convenience, yet a sense of isolation from the hustle and bustle of the city. We are the ideal set-up for Product Launch events providing ample space for network and showcase purposes.
LAUNCH EVENTS

Any nature of launch event requires the ideal space, convenience and facilities. Facilities and amenities are pretty much the "hardware" for your launch. Sky Garden provides exclusive usage of the stage, lights, AV system and other various installed amenities ensuring that your event leaves an impact.